| | |
| --- | --- |
| Posted on September 22, 2015 at 4:45 AM | |
Although I could say it All Really began a quarter of a century ago, believe it or not, and I wouldn't be lying...
It began when my Best Fabulous Blue Witch sent me a vintage doll house kit as a late birthday gift and has become an all encompassing three week labor of love, fun, friendship, and mostly magic*! First, here's the magic set loose, then see the magic in the making. I must say it started to become magical when I added a photo of we three witches to the cellar ceiling, wrapped in gift wrap. Come join the Grand Opening Gala!

Three Witches Magic Shoppe Calendar
by
dollsandmagic
View more Spells Calendars at
zazzle.com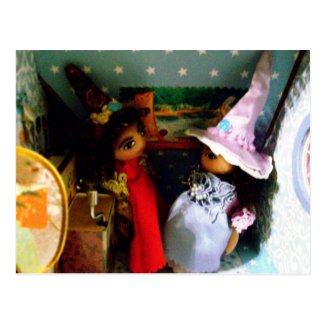 Happy Witches by dollsandmagic
Find more Dollhouses Postcards at Zazzle
Lots of Three Witches Fun in my ZAZZLE Shop!
Save 21% off your order in my Etsy Shop with coupon code: THREEWITCHES at check-out! Expires October, 4th.
***XXX***
***OOO***
Categories: None